Raccoon Removal Mississauga
Raccoon removal professionals. Raccoons often find shelter in homes. They can easily make their way into attics and other empty spaces for shelter.  If you do have raccoons living in your space then contact us:
We offer full service raccoon removal services. Our technicians are experienced in dealing with all types of raccoon removal situations.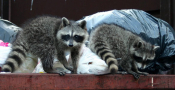 We will trap and remove the raccoons, seal entry points and make sure the raccoons will not make their way in again.
Contact us and let us help with your raccoon control situation.
Raccoons enter attics in many cases, mostly because raccoon mothers tend to do so in order to raise their young. Raccoons can cause serious damage to your roof. Damage that can be avoided if you take the necessary measures to remove the animals and do so in a way that will not allow them to enter your space again.
We offer humane raccoon removal solutions in Mississauga. We will take all the necessary measures to remove the raccoons from your space and make sure that they dont enter again. Contact animal control Mississauga professionals and be assured that the issue will be dealt with once and for all.